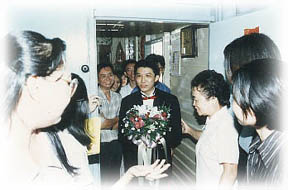 The door is opened...
Hey, no problem man, I managed to answered all those very-personal-questions. These girls are trying to make the questions harder by showing me a piece of A4 paper, filled with kisses' stains in different shapes and sizes of these girls on it. One of those kisses is belongs to Kimmy, hmm...of course I was asked to guess which one is Kimmy's...
I think there're almost 10 kisses' stains on the paper, but to my instinct, I pointed the correct one. So easy.